Product Description
Birchmeier BCS Closed System Backpack Sprayer
Features
Includes a 2.5-gallon container
Quick disconnect lid
Steel backpack base
Uses a heavy-duty adjustable brass tip and spray valve
Protect your investment & eliminate downtime – Get the Birchmeier Year 1 Maintenance Kit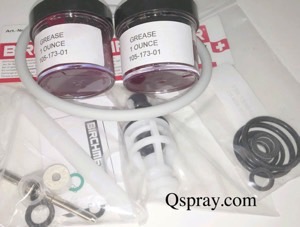 Birchmeier BCS Closed System Backpack Sprayer
QSpray.com brings you the Birchmeier BCS closed system backpack sprayer for professional pest and weed control professionals. This Birchmeier closed system comes with a 2.5-gallon container that fits easily inside the tank and lets you mix chemicals before heading into the field. If your spray runs out mid-job, you can quickly change containers using the unique quick disconnect lid.
This closed system backpack sprayer from Birchmeier comes with standard features of Birchmeier backpack sprayers. Crucial specs include: a brass cylinder, an externally mounted pump, an external cylinder lubrication, and a brass shutoff valve. Maximum operating pressure is 40 psi. Regardless of the pressure you use, the system is designed to reduce spray drift to ensure a thorough job.
To learn more about the Birchmeier closed system, click on the product video tab above.
High-Quality Sprayers and Components
Because we only sell the best pest and weed control equipment, you can be confident that, with proper maintenance, our Birchmeier BCS will offer years of great service. To use multiple products with the system, get a spare BCS Lid & Pickup Assembly.
Download Resources
Download Birchmeier parts diagram
For questions about our closed system backpack sprayers, or for assistance selecting the right product for your needs, contact us today.
Specifications
Weight:

16 lb

Width:

24 in

Depth:

36 in

Height:

16 in