Product Description
5 Reasons Why Our Customers Love The QES50!
Comes with industry's ONLY 90-Day money back guarantee
Requires very little maintenance
Has no exposed moving parts
Fits every pickup truck
Quiet, green alternative to gas powered sprayers
General Description
Get the 50-gallon electric weed sprayer designed to fit in the back of pick-up trucks at QSpray.com. The QES50 is one of the most cost-effective and reliable weed sprayers you'll ever use, and it's perfect for most pest and weed applications. We design and optimize our commercial-grade spray equipment for maximum productivity, ease of maintenance, and safety.
Features:
50-gallon tank
300′ of 3/8″ heavy-duty spray hose
Shurflo 12-Volt pump
Cox Hose Reel & Green Garde Spray Gun all on a heavy-duty frame
Note: This 50-gallon spray rig isn't recommended for high volume applications such as weed pre-emergent or large termite jobs.
Place your order now.
TESTIMONIAL
"In the past, we had always used gas sprayers. Now we use the QES50 for our general pest control work and we love it. It's real workhorse. We use it 6 days a week in the blazing Arizona sun. The units are easy for our techs to operate, require little maintenance and have virtually zero problems. Highly recommended!"
– Arthur Mann, Lil Critters Pest Control, Phoenix AZ
Spray Rig Components
Shurflo 8000 Series 12-Volt Electric Pump & Motor
Why We Use This Pump: We use the Shurflo because it is the most reliable continuous-duty pump on the market. That means you can use it hard, every day, in heat or cold. It will work and it won't drain your battery. You do not need to leave your truck running. This is the ONLY electric pump we will put a money-back guarantee on. Also, every pump eventually needs maintenance. We make this pump easy to get to and easy to remove with spin-on wing-nut fittings. This means maintenance takes minutes, not hours, which reduces downtime and saves you money!
Specifications:
– Maximum Pressure 100 PSI, 1.6 GPM
-Pump Mounting Base Kit
– Automatic Demand Switch
– Self-priming
– Viton Valves & Santoprene Diaphragms for chemical resistance
– Can run dry without damage
– Wingnut fittings – easy access to service pump
– Electric Toggle Switch Control – mounted on hose reel giving you easy access
– Waterproof 15 Amp Fuse & Holder
50-Gallon Polyethylene Tank – Heavy-Duty 
Why We Use This Tank:
 We plumb our tank from the bottom to reduce the suction problems (and downtime) that eventually occurs with top-plumbed tanks. Plumbing from the top requires the use of a PVC tube, which exposes you to unnecessary risk. The plastic tube can clog starving your pump. Or it can break or crack causing your pump to suck air. Plumbing from the bottom eliminates these problems.
Specifications:
-Secured with Steel Bands
– Rugged, impact-resistant, one-piece seamless construction
– Bottom End Plumbed to reduce vapor lock & suction problems
– 3-Year Manufacturer's Limited Warranty
– Anti-Siphon/Backflow Prevention Device
– Flexible Hose Extension to Side Rail
– Allows easy tank fill
– Hose extension reduces stretching & back strain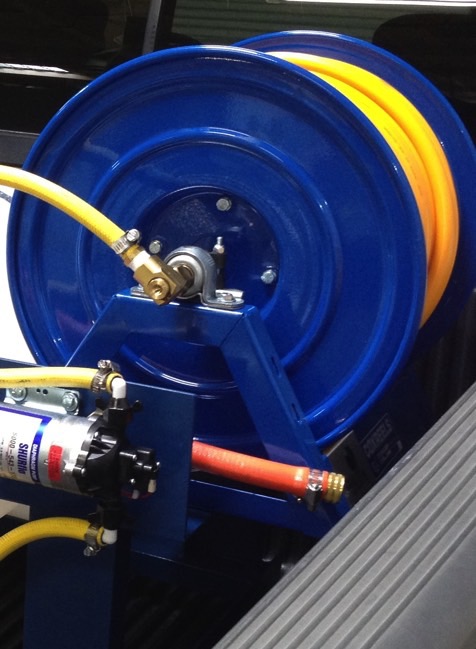 Cox 1125-4 Hose Reel, Manual Crank
Why We Use This Reel: There are cheaper reels available, but we won't use them. The raised reel design means the unit can sit with the reel facing to the side or to the rear. Most of our clients use the side orientation.Why? Because this allows them to park in the street where an accidental oil leak won't stain a customer's driveway.Cox reels need little maintenance other than occasionally changing the O-rings in the swivel. The swivel is positioned so you can swap out the O-rings in less than 5 minutes.
Specifications:
– Heavy-Duty Steel Construction
– Durable Proprietary "CPC" Powder Coat Process
– Adjustable Tension Brake to Prevent Backlash (manual reels only)
– Rebuildable Brass Swivel
– 2-Year Manufacturer's Limited Warranty
– Heavy-Duty Reel Lift – Virtually Indestructible
– 3/16 Steel Construction
– Reduces Technician Back Strain – No Bending Over
– Boosts Productivity
– Passenger Side Mount for Easy Access
TESTIMONIAL
"Frontline has standardized our equipment, our choice was Quality Equipment and we have nearly 30 QES50s installed. The rig design minimizes real estate requirement in your truck. Rugged, durable design and easy serviceability have dramatically reduced equipment repairs and downtime. I would highly recommend their equipment to anyone requiring dependable products at a reasonable price."
– John Barnett, Associate Certified Entomologist, Frontline Pest Professionals
3/8″ Spray Hose – 300 Feet, 600 PSI
Why We Use This Hose: We use much higher quality hose than the pump requires because we want it to last and we don't want you to have to worry about your spray hose.
Specifications:
– Heavy Duty, Chemical Resistant
– Quick Disconnect – for easy tool interchange
– Ball valve at hose end for emergency shut off – improves safety
– Durable High Quality Stainless steel band clamp at hose
– Reduces Spills
– Reduces Technician injuries
Green Garde 38505 Spray Gun
Why We Use This Spray Gun: We like the Green Garde gun because it is more durable and takes abuse better than a lot of other spray guns. It is easily rebuildable with an o-ring kit. We do have other spray guns available if you prefer (additional charge may apply)
Specifications:
– Heavy Duty construction for reliable service
– Stainless steel valve stem and tip
– Aluminum body – durable & light weight
– Chemical Resistant Viton seals
– Adjustable Stream
– Rebuildable
– Quick disconnect allows you to easily remove gun to use a different gun or tool; as well as for security, storage and maintenance.
Filter/Line Strainer
Why We Use This Strainer: Checking the filter frequently is the easiest and most important thing you can do to reduce sprayer problems & extend equipment life. Unlike so many other company's sprayers, our filter is easily accessible, even when the tank is full.
Specifications:
– Chemical Resistant Viton Gasket
– tainless-Steel Screen
– Easily Accessible by Technician
-Brass Gate Valve allows checking in the field without emptying tank
Heavy Duty Quality-Designed Steel Frame
Why We Use This Frame: Many companies design sprayers to be cheap and easy to ship. Our sprayers are designed for ease of use, safety and easy maintenance. It is not worth saving a few dollars on the purchase price if the sprayer always needs service or if service takes forever because the components are difficult to access.
 Why The Raised Design Is Important: Most frames sit flat on the truck. Chemicals build up. Dirt collects. Our raised design allows you to keep this area clean and safe so you can project a professional image. You work hard to win & retain customers. Why take the chance of handing over a customer to a competitor because of filthy, smelly truck?
Specifications:
– 3/16″ Thick Steel – Virtually Indestructible
– Joints are welded top and bottom for extra strength
– All rig components easily accessible for maintenance
– Painted for durable finish
– Raised design allows for easy cleanout under frame
TESTIMONIAL
"We have purchased 30 of the Quality Equipment QES50 spray rigs. Our techs find them easy to use. As a company owner, I appreciate their reliability, their durability and the relative lack of maintenance required to keep them running. We recommend this sprayer and this company to anyone doing pest or weed control."
-Dan Stevens, President – Evergreen Pest Solutions
About Our Pricing Philosophy
Our pricing is not the lowest on the market. So if you're someone who shops by price only, we probably aren't for you. But if you're a savvy buyer – someone who understands that cost NOT price alone is the true sniff test for overall value – this should interest you… Our products are made with brass fittings & valves. Brass costs more but provides strength, reliability and durability and lowers risk of costly chemical leaks & spills! We stock ALL the repair parts and kits you are ever likely to need for this sprayer. Unnecessarily waiting for parts is the #1 silent profit-killer that impacts many operators. Our approach to is simple: Build a quality product and keep maintenance and repairs to a minimum. That way we help you maximize your operating time and productivity and most importantly – your profits!

And we back it up with our 90-Day Money Back Guarantee – the only one in the industry. 

The Company Behind Your QES50 Sprayer Investment
In business since 1993
Staffed by industry professionals with 120 years of spray equipment experience
Track record of shipping 98% of parts orders the same or next day
Largest parts inventory in the industry
Only sprayer company that offers a 90-Day, Money-Back Guarantee
If you are not happy with your QES50 Sprayer, we'll buy it back!
Specifications
Weight:

1 lb

gurantee_badge:

https://cdn11.bigcommerce.com/s-eorhs/product_images/uploaded_images/90-day-moneyback.png